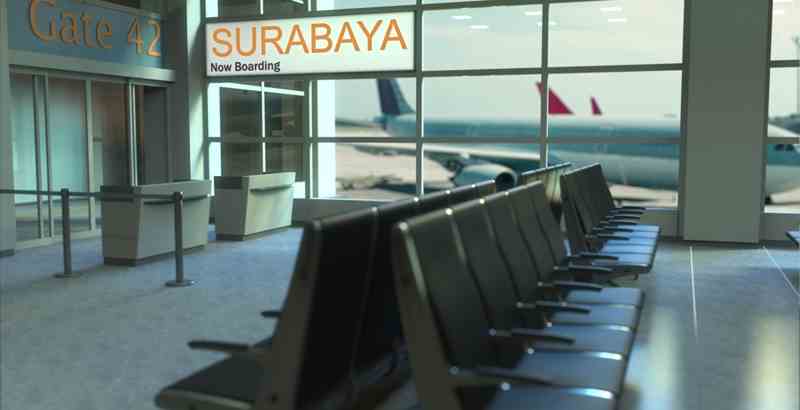 Surabaya Tourist Attractions
The airport in Surabaya is top-rated among Indonesian travelers. Mount Bromo and Ijen Crater are only a couple of the nearby sights. You can choose from a wide variety of hotels and inns close to the airport.
Before your flight, you can also grab a bite at one of the adjacent eateries or cafes. Please visit getyourguide.com for further information if you're interested in learning about the local area.
From Malang or Surabaya: Private Tumpak Sewu Waterfall Tour
The Tumpak Sewu Waterfall is in the Lumajang Regency, which may be reached after being picked up from your hotel in Malang or Surabaya City. Stop at the first overlook to see a pristine white-water cascade over the cliff.
Afterward, proceed to the Tumpak Sewu waterfall's lower valley vantage point. Walk down a trail artistically adorned with a sprinkling of moss. Take in breathtaking panoramas from the base of towering cliffs, tower over incredible heights, and marvel at the seemingly endless water supply.
The next stop after Tumpak Sewu should be Tetes Cave, a series of smaller streams that cascade down an enormous outcrop of rocks.
Take your time and relax in the calm waters below the Tetes Waterfall.
Return to your Malang or Surabaya City accommodation.
From Surabaya: Mt. Bromo Sunrise Private Trip
You'll be picked up from your Surabaya hotel at midnight, and from there, it'll be a three-hour drive to the base of Mt. Bromo. When you get to Cemoro Lawang, where the sunrise tour begins, you'll hop in a 4WD vehicle to begin the journey. Travel the rough path to the Penanjakan sunrise lookout.
The breathtaking dawn over Bromo may be seen by walking the 10 minutes from the parking lot to the lookout. Head back to the parking lot when sunrise is done and to the sand dunes. Get to the top of Mt. Bromo in half an hour by taking a hike. Views of Mount Semeru, Java's tallest mountain, the crater, the temple, the caldera, and the surrounding mountains await you.
Have breakfast at a local eatery after a day of hiking Mt. Bromo. Travel to the Madakaripura waterfall on the way back to Surabaya.
From Surabaya: Mt. Bromo, Ijen, and Tumpak Sewu 3-Day Tour
On this 3-day tour from Surabaya, see attractions including the Tumpak Sewu Waterfall, Mount Bromo, and the Ijen Crater. Enjoy a relaxing overnight stay in Bondowoso and Bromo. Select a tour option that includes drop-off at your Banyuwangi, Bali, or Surabaya lodging.
Day 1:
Travel to Tumpak Sewu Waterfall in a climate-controlled vehicle following an early morning pickup in Surabaya. Explore this multi-tiered waterfall encircled by a verdant jungle before turning around to see Tetes Cave.
Enjoy the scenery as you travel to Mount Bromo and check your lodging. Settling into your accommodation late in the day will give you time to rest or explore the neighborhood.
Day 2:
A memorable experience awaits those who get up early to witness the enchanting dawn above Mount Bromo, the most well-known volcano in Indonesia. Before returning to the hotel for breakfast, take the time to visit Mount Bromo's highlights.
As you travel to Bondowoso to check your lodging, sit back and enjoy the view. Before your trip's final day, take advantage of the free time to rest and unwind.
Day 3:
Begin your exploration of the Ijen Crater. To see the blue flames rising from the Ijen Crater's interior, climb up to the top of the crater. After exploring the hole, you can be dropped off in Banyuwangi, Bali, or Surabaya.
Surabaya: Private 1-Way Transfer to/from SUB Airport
You can alleviate some of the stress associated with airport commuting by making a reservation in advance for a private airport transfer to or from Surabaya Airport. You may rest easy knowing that you will be delivered to any location in Surabaya in a manner that is not only convenient but also safe and comfortable.
You will get a text message with your booking reference, a customer care number, the driver's name, and contact information shortly before you are picked up. This is done to make your transfer experience as stress-free as possible.
Your driver will be standing there with a sign bearing your name and will be happy to see you. Your driver will help you with your luggage while you are traveling. You are welcome to get inside the luxurious air-conditioned car, stretch out, take it easy, and take in the sights and sounds of the journey as you are driven to your destination.
Surabaya Port: City Highlight Private Guided Shore Excursion
There is much to see in and around Surabaya, including the city. The local markets, the Sampoerna Tobacco Museum, the historical Heroes Monument, and the most prominent attractions around Surabaya are just some of the things you may see and do if you book this unique, tailored shore tour.
After disembarking from your cruise ship, you will immediately begin your Surabaya shore excursion. At the pier where your boat is docked, you will be greeted by your experienced and personable driver and guide. They will make it easy to get in touch by holding a sign with your name. After settling into your comfortable minivan with climate control, the journey you have been anticipating may finally begin.
You will benefit from having an itinerary that can be changed and tweaked based on the things you are most interested in doing. During this shore trip, you can go wherever you'd like. Discovering Surabaya and the surrounding area through this activity is the perfect option if you enjoy having the freedom to pick how you spend your time and have fun at your own pace.
UNBEATABLE VALUE CAR RENTAL

FREE
Amendments,
FREE
Cancellations,
NO
card fees!

airport_shuttle Need Airport Transfers?
Useful Information about Surabaya Airport