SURABAYA AIRPORT (SUB) INFORMATION
Origin
Airline
Flight no.
Scheduled
Est./Actual
Status
No flight arrivals were found at Surabaya Airport.
Destination
Airline
Flight no.
Scheduled
Est./Actual
Status
No flight departures were found at Surabaya Airport.
Car Hire at Surabaya Airport
UNBEATABLE VALUE CAR RENTAL
Free Amendments | Free Cancellations | No Card Fees




Surabaya Airport - All Information on Surabaya Airport (SUB) Surabaya Airport
Juanda, Betro, Kec. Sedati, Kabupaten Sidoarjo, Jawa Timur, Indonesia
phone +62 31 2986200
phone+62 31 2986200 (Lost + Found)
call_end+62-31-8667506 (fax)
Facts and History about Surabaya Airport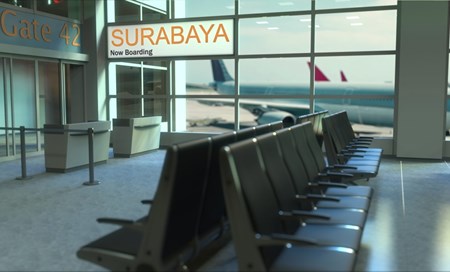 Juanda International Airport (IATA code: SUB) is a global airport located in Sedati, Sidoarjo. It is one of the busiest airports in Indonesia and is located roughly 12 kilometers from the heart of Surabaya. The airport serves Surabaya's metropolitan area, Surabaya, the metro area of Surabaya, and a larger urban area.
Citilink, Garuda Indonesia, Indonesia AirAsia, Lion Air, Sriwijaya Air, and Soekarno–Hatta International Airport have their hubs in Surabaya Airport. For ASEAN Open Skies, Surabaya Airport will become one of the most important airports in Indonesia.
Surabaya Airport is approximately 15 kilometers from Waru-Juanda Toll Road, which connects the airport to Surabaya. The local government provides DAMRI buses to transport passengers to Surabaya.
Taxis are provided to numerous destinations in Surabaya and its environs, including Malang, Blitar, Jember, and Tulungagung, for a flat rate. Taxi tickets are available for purchase at the airport exit desk.
Transfer Services at Surabaya Airport
Taxis, trains, and buses are among the ground transportation options available at Surabaya Airport. The most expensive but practical alternative is a taxi. Buses and trains are more affordable, yet they take longer to get where you're going.
When selecting ground transportation in Surabaya, Indonesia, keep the following in mind:
Select the mode of transportation you require. There are numerous possibilities, including taxis, private vehicles, buses, and railroads. Consider your mobility needs and spending limit.
Do some research on the various ground transportation providers in Surabaya. To learn more about the level of service each company offers, read internet evaluations.
Pick a business that charges a fair fee for your required services. Before making any plans, get estimates from several firms.
Check to see if the business you select is reputable and dependable. To be sure you're picking a trustworthy company, ask for references or double-check web reviews.
Rental Car Services at Surabaya Airport
Several companies offer car rental services at the Surabaya Airport. At the airport, a few local vehicle rental agencies provide their services. To rent a car, you must provide your credit card, passport, and driver's license. In addition, a rental agreement must be signed.
It's a good idea to reserve your automobile in advance to obtain the most incredible pricing. To compare prices and services, please look at our selection of rental cars from several car rental agencies.
Taxi Services at Surabaya Airport
At the airport, there are numerous taxicab options accessible. At any of the desks in Terminals 1 and 2, the Arrivals Hall, travelers can schedule a taxi service. The downtown part of the city can be reached in a taxi in around 30 minutes from Terminal 1 or Terminal 2.
Surabaya Juanda Airport to the city center taxi fare is around 120,000 Indonesian Rupiah (IDR). A little higher cost is charged for a taxi ride to Chinatown or the Historic District. See more information about taxis at Surabaya Airport.
Train Services at Surabaya Airport
An average travel time of fifty minutes is required to cover the approximately 24 kilometers (miles) between the airport and Surabaya's downtown (Tunjungan Plaza). The city's Central Business District is located to the north of the neighborhoods of Old Town and Chinatown.
The cost and duration of the cab ride from Juanda Surabaya Airport to Gubeng Railway Station are estimated to be $10 and 20 minutes, respectively. However, the exact fare will depend on the flow of traffic. More information about train services near Surabaya Airport.
Bus Services at Surabaya Airport
You can enter and exit the city through the public transportation system. The bus system is governed by DAMRI. There are two bus stops at Terminal 1 and only one at Terminal 2. More information about buses to and from Surabaya Airport.
Hotel Shuttle Services at Surabaya Airport
Surabaya Airport is served by numerous hotel shuttles. You will only have further delays in reaching these services if you follow the signage to the appropriate pickup sites.
Most shuttles run on a first-come, first-served basis, so it would be in your best interest to get to the shuttle stop early. It would be best if you arrived as early as you could because it's likely that the hotel shuttle only runs once or twice per day.
Please review the details offered on our hotel page.
Rideshare Services at Surabaya Airport
There are currently ridesharing options for trips to and from the Surabaya Airport. Examples of businesses providing interchangeable services are Grab, Go-Jek, and Uber. You can check the complete list of available ridesharing services and the costs associated with each choice. Making a reservation and paying for it via a mobile app is simple and fast.
A ridesharing service is an excellent choice if you're searching for an alternative to using a cab or shuttle to get where you need to go.
Parking Services at Surabaya Airport
When arriving at Surabaya Airport, visitors have a variety of parking options to choose from. The first choice is the temporary parking area, which is a good choice because it's close to the airport and makes it easy to pick up or drop off passengers. The second choice is the long-term parking lot, which is farther from the airport but offers a discount to patrons who remain longer.
In addition, the Surabaya Airport has motorbike parking spaces outside of Terminals 1 and 2. Please see our website's parking page for further details.
Other Services at Surabaya Airport
Passenger services at Surabaya Airport are operated by several different airlines. The airport has three terminals: Terminal 1 is used for domestic flights, while Terminal 2 is for international flights. Various services are available at the airport, including duty-free shopping, restaurants, and currency exchange.
Disabled Passengers at Surabaya Airport
Surabaya Airport has a particular facility for disabled passengers. The airport has a wheelchair-accessible toilet and an elevator to the departure hall. There is also a Braille map of the terminal building for visually impaired passengers.
Wi-Fi at Surabaya Airport
Surabaya Airport offers Wi-Fi services for passengers who need to stay connected while on the go. The service is available in all airport areas, including terminals, restaurants, and shops. To access the Wi-Fi, connect to the open network on your device and enter your email address to start browsing.
Baggage Claim at Surabaya Airport
Baggage Claim at Surabaya Airport is located on the first floor of the terminal. For those arriving by plane, it is directly accessible from the arrival hall. The exit to the baggage claim area is clearly marked and easy to find.
Information Desk at Surabaya Airport
The Information Desk at Surabaya Airport is here to help you with any questions or concerns about your travels. Their staff is knowledgeable and friendly, and they are happy to assist you in any way they can.
Smoking at Surabaya Airport
Smoking at Surabaya Airport is only allowed in specific areas clearly marked. Smoking is prohibited in all other indoor areas of the airport, including restaurants and cafes. Several outdoor smoking areas are available for use by smokers.
Lost and Found Section at Surabaya Airport
You can check the Lost and Found section if you have lost something while at Surabaya Airport. To do so, go to the Customer Service Center in the Arrivals area. The Customer Service Center is open 24 hours a day and has English-speaking staff who can help you fill out a lost item report.
If your item is not found within 48 hours, you will be contacted by the airport staff.
Restrooms at Surabaya Airport
Restrooms at Surabaya Airport are in all terminal buildings. All bathrooms are clean and well-maintained. There is a toilet for disabled persons.
Nursing Mothers Station at Surabaya Airport
Surabaya Airport set up a nursing mothers station in the terminal building. This is a small, private room where nursing mothers can breastfeed or pump in comfort. The room is equipped with a sink, a comfortable chair, and an electrical outlet.
ATMs at Surabaya Airport
ATMs at Surabaya Airport are in the Domestic and International Arrival Halls. There are also several banks and money changers located throughout the airport. The easiest way to get cash is from an ATM, but you may also be able to get it from your hotel or a local bank.
Currency Exchange at Surabaya Airport
Surabaya Airport offers a currency exchange service for travelers arriving or departing from the airport. The service is available at the airport's main terminal. It provides a convenient way to exchange money before or after your flight. The airport also offers an ATM and a credit card cash advance service for those who need to withdraw cash from their accounts.
Food and Beverages at Surabaya Airport
Surabaya Airport has many food and beverage options available for travelers. Several restaurants and cafes and a few vending machines are located throughout the airport. Travelers can find something to eat or drink no matter when their flight leaves.
Surabaya Airport's restaurants offer various cuisines, including Indonesian, Chinese, and Western food. There are also several fast-food options available. For those looking for a quick snack or drink, plenty of vending machines are located throughout the airport selling snacks and drinks.
Shopping at Surabaya Airport
Shopping at Surabaya Airport is quite an experience. The shopping area is in the departures terminal. It is full of duty-free shops selling everything from cigarettes to jewelry. A few restaurants, cafes, and other shops also sell souvenirs and travel items.
Pet Relief at Surabaya Airport
Surabaya Airport has a designated pet relief area for your convenience. The site is in the public park near the departures terminal. Please be sure to clean up after your pet.
Ticketing Services at Surabaya Airport
Surabaya Airport is one of the busiest airports in Indonesia and handles both domestic and international flights. Ticketing services at Surabaya airport are reliable and efficient. The staff is friendly and helpful, and they provide good customer service. Many ticketing options are available, including online, phone, and walk-in bookings. The process is simple, and you can usually get your tickets within minutes.
History of Surabaya Airport
The Indonesian Navy Air Base first opened in 1964. Its new terminal took the place of the old airport in Morokrembangan, which was close to Surabaya's port. At first, it served as a hub for the Indonesian Navy's Ilyushin Il-28 and Fairey Gannet aircraft.
Civil aviation also benefited from its development. After opening its international terminal in 1990, Surabaya Airport became a full-fledged international airport. The airport has been used for international flights since December 1987, when it began offering service to Singapore, Kuala Lumpur, Hong Kong, Taipei, and Manila.
In 2015, President Joko Widodo of Indonesia approved plans to expand Juanda Airport City with two new runways and an elevated railway connecting the airport to the Gubeng train station. The airport is set to grow, and some 6,000 acres of land have been cleared and fenced off.
It is anticipated that the expanded Surabaya Airport will cover an area of 1,700 hectares. Location: Up in the airport's north end. About 4 kilometers of land along the northern shore of Java will need to be reclaimed to construct two runways.
About Surabaya, Indonesia
Surabaya is the largest city in Indonesia after Jakarta and the seat of the province of East Java. It is one of the oldest port cities in Southeast Asia, on the northeastern border of Java Island off the Madura Strait.
Surabaya, along with Jakarta, Medan, and Makassar, is one of Indonesia's four major core cities, as identified by the National Development Planning Agency. Surabaya is the second-largest city in the Indonesian archipelago, with a population of 2.87 million within the city boundaries and 9.5 million in the greater Surabaya metropolitan region, according to the 2020 census.
During the 10th century, the Janggala Kingdom established a foothold. This was one of two Javanese kingdoms established in 1045 after Airlangga abdicated in favor of his two sons. Surabaya developed into a duchy, a prominent political and military force, and a port in eastern Java between the 15th and 16th centuries, most likely during the reign of the Majapahit empire.
Surabaya's strategic location on the Brantas delta and the trade route between Malacca and the Spice Islands via the Java Sea made it an important commercial port even back then. The lord of Surabaya opposed the Demak Sultanate's emergence after the Majapahit's decline and only succumbed to its power in 1530.
When Sultan Trenggana of Demak died in 1546, Surabaya gained its independence. Surabaya was the largest city in the Dutch East Indies and the commercial hub of the Indonesian archipelago, a rival to Shanghai and Hong Kong from the 18th through the middle of the 20th century.
Due to its significance in the Indonesian National Revolution, Surabaya is known as Kota Pahlawan (the city of heroes). The city is second only to Jakarta as one of the archipelago's important financial, commercial, industrial, transportation, and entertainment hubs. Tanjung Perak Port, located in northern Surabaya, is the second busiest seaport in Indonesia.
There is a reputation for the city being one of the greenest and cleanest in all of Indonesia. Surabaya is one of Asia's most essential and bustling ports. Sugar, tobacco, and coffee are the main exports from the port.
Its long history as a port has resulted in a stable financial system that includes contemporary banks, insurance agencies, and export-import businesses.
The recent expansion of global enterprises and the opening of the Suramadu Bridge positively affect the economy. Foreign investors are drawn to the city's promising future and thriving economy.
The city has a sizable shipyard, and many specialized maritime institutions call it home. The Bank of Indonesia also has ambitions to make Surabaya the country's Islamic financial hub.
Weather in Surabaya, Indonesia
Weather in Surabaya is hot and humid year-round, with gloomy skies during the wet season and scattered clouds during the dry. Temperatures rarely drop below 71 degrees Fahrenheit or rise over 96 degrees Fahrenheit throughout the year. Those looking to enjoy hot-weather pursuits in Surabaya should go between the middle of June and the end of September.
Generally, the wetter season lasts for around 6 months, from November to April. Surabaya experienced its heaviest rainfall in February. From May till November, the weather is drier than usual. August is the month with the fewest rainy days.
Wet days can be classified as rainy, snowy, or a combination. February has an average of 19 rainy days, making it the wettest month in Surabaya.
Useful Contact Details
If you find yourself in a police or medical emergency in Surabaya, Indonesia, the best thing to do is to contact the local authorities. If you can speak Indonesian, this will help you communicate with the police or medical personnel. Having some form of identification on you is also a good idea, such as your passport or ID card.
Indonesia National Emergency Phone: 112
Tips to consider for first-time travelers in Surabaya, Indonesia:
Do your research - knowing about the culture and customs of Surabaya before you travel is essential. This will help you avoid misunderstandings or offensive behavior.
Pack light - Surabaya is a hot and humid city, so you won't need many heavy clothes. And, since public transportation is often crowded, it's best to travel light.
Be patient - things in Surabaya move slower than in other parts of Indonesia. Expect people to be less efficient and organized than in Jakarta or Bali.
Bargain - bargaining is a way of life in Surabaya (and all of Indonesia). You can bargain for almost anything - hotels, souvenirs, taxi fares, etc.
Explore - Surabaya is a big city with lots to see and do. Take some time to wander around and explore the different neighborhoods and attractions.
Hospital
Address: Jl. Raya Gubeng 70, Surabaya 60281
Phone: (031) 9920 6900
Emergency:1-500-911
Email: cs.shsb@siloamhospitals.com
Police Station
Kepolisian Resor Kota Besar Surabaya
Address: JL. Sikatan No. 1 Krembangan Sel. Surabaya Jawa Timur 60175, Indonesia
Phone: +62 31 3523927
Email: info.polrestabes.sby@gmail.com
Surabaya Airport Contacts
Address: Juanda, Betro, Kec. Sedati, Kabupaten Sidoarjo, Jawa Timur, Indonesia
General Phone: +62 31 2986200
Lost and Found Phone: +62 31 2986200
Information Desk: +62 31 2986200
Official website: https://www.juanda-airport.com/en
Local Information
Drive on: Left
Electricity: 230V/50Hz
Plug: C, F
Currency: Indonesian rupiah, IDR, Rp
Wi-Fi at Airport: Free Wi-Fi connection is available at Surabaya Airport.
Services at Surabaya Airport
Useful Information about Surabaya Airport