Surabaya Airport Departures (SUB)
Not all flights may be showing. If not available use search above to find your flight by airline, airport or flight number.
Destination
Airline
Flight no.
Scheduled
Est./Actual
Status
Balikpapan (BPN)
Super Air Jet
IU610
05:00
05:04
En-Route
Makassar (UPG)
Lion Air
JT896
05:00
Unknown
Makassar (UPG)
Lion Air
JT852
05:00
Unknown
Jakarta (HLP)
Batik Air
ID7508
05:00
05:08
En-Route
Jakarta (CGK)
Batik Air
ID6589
05:00
Unknown
Makassar (UPG)
Lion Air
JT786
05:00
05:10
En-Route
No flight departures were found at Surabaya Airport.
Flight Departures at Surabaya Airport
Taxis, shuttles, car rental options, and buses can take you to Surabaya Airport. Taxis are the most expensive yet most convenient choice. Trains and buses are less expensive yet require more time to reach their destinations.
When leaving the airport, have your passport and boarding pass ready. The security check process at Surabaya Airport is generally quick and efficient. However, during busy times, there may be long lines.
Consider the following factors while selecting ground transportation in Surabaya, Indonesia:
Determine the mode of transportation you require. There are numerous possibilities, ranging from cabs and autos to buses and railroads. Consider your budget and the most convenient way of transportation.
Conduct research on the various ground transportation firms in Surabaya. Examine internet reviews to determine the service quality of each organization.
Select a business that offers reasonable pricing for the services you require. Get estimates from multiple companies before planning.
Ensure that the company you select has a solid reputation and is trustworthy. Ask for referrals or reread internet reviews to ensure you choose a reliable firm.
Rental Car Services at Surabaya Airport
Returning a rented vehicle at Surabaya Airport is a straightforward process. You drive the car to the rental return area, which is clearly marked, and parks in one of the designated spaces.
A rental company representative will inspect the car for damage and verify your mileage. Once everything is checked off, you hand over your keys and paperwork.
To obtain the best rental car rate, it is essential to reserve a vehicle in advance. You may also compare the costs and services by browsing our car rental options.
Taxi Services at Surabaya Airport
There are numerous taxicab options available going to the airport. Taking a taxi to Surabaya Airport will cost you around $10. The cab price from Chinatown or the Historic District will be slightly higher. See more information about taxis at Surabaya Airport.
Train Services at Surabaya Airport
The usual journey time between the airport and the center of Surabaya (Tunjungan Plaza) is 50 minutes, as the distance is around 24 kilometers. Old Town and Chinatown areas can be found north of the city's Central Business District. More information about train services near Surabaya Airport.
The cab ride to Surabaya Airport from Gubeng Railway Station will cost roughly $10 and take approximately 20 minutes. The exact cost and travel time can vary based on traffic circumstances.
Bus Services at Surabaya Airport
The DAMRI oversees the bus system. Terminal 1 has two bus stops, and Terminal 2 has one. More information about buses to and from Surabaya Airport.
Hotel Shuttle Services at Surabaya Airport
Numerous hotel shuttles operate between Surabaya Airport and hotels. You will reach these services immediately if you follow the signs to the appropriate pick-up places.
Since most shuttles run on a first-come, first-served basis, arriving quickly at the shuttle stop would be in your best interest. The hotel shuttle may operate only once or twice daily, so you should arrive as early as possible.
Please review the information on our hotel page.
Rideshare Services at Surabaya Airport
Ridesharing services are now accessible for airport travel to Surabaya Airport. Grab, Go-Jek, and Uber are only a few companies that provide comparable benefits. You must download the app, enter your starting and ending locations, and choose the desired car.
Before making a reservation, you can check the whole menu of ridesharing services and the pricing connected with each option. Using the smartphone app to make a reservation and pay for it is simple and reasonable.
A ridesharing service is an excellent alternative to taxis and shuttles if you're looking for a way to get to your destination.
Parking Services at Surabaya Airport
When arriving at Surabaya Airport, travelers have several parking options from which to choose. The first choice is the short-term parking lot, close to the terminal and ideal for picking up or dropping off guests. The second alternative is the long-term parking lot, which is further from the airport but offers discounted rates to those who park longer.
In addition, motorbike parking is offered outside of Terminal 1 and Terminal 2 at the Surabaya Airport. Please refer to our parking page for more details.
Other Services at Surabaya Airport
Several airlines provide passenger services at Surabaya International Airport. The airport has three terminals: Terminal 1 serves domestic flights, while Terminal 2 serves international aircraft. The airport offers a variety of amenities, including duty-free shopping, restaurants, and currency exchange.
Disabled Passengers at Surabaya Airport
Surabaya Airport provides a particular area for disabled passengers. There is a wheelchair-accessible bathroom and an elevator to the departure hall at the airport. For those who are blind, the terminal building is also marked on a Braille map.
There is also a Braille map of the terminal building for visually impaired passengers.
Wi-Fi at Surabaya Airport
Surabaya Airport provides Wi-Fi for customers that need to stay connected while traveling. The service is offered throughout the airport, including terminals, cafés, and stores. Connect to an open network on your device and input your email address to begin browsing.
Baggage Claim at Surabaya Airport
Surabaya Airport's baggage claim is on the first floor of the terminal. It is directly accessible from the arrival hall for people coming by plane. The exit to the baggage claim area is well-marked and straightforward to locate.
Information Desk at Surabaya Airport
The Surabaya Airport Information Desk can assist you with inquiries or concerns about your trip. Their employees are competent, polite, and eager to help you in any way they can.
Smoking at Surabaya Airport
Smoking is only permitted in designated areas at Surabaya Airport. All other indoor sections of the airport, including restaurants and cafes, are smoke-free. Smokers have access to several outdoor smoking locations.
Lost and Found Section at Surabaya Airport
You can check the Lost and Found department if you have lost something while at Surabaya Airport. Go to the Customer Service Center in the Arrivals area to do so. The Customer Service Center is open 24 hours a day, seven days a week, and has English-speaking professionals that can assist you in filing a missing item report.
Airport personnel will notify you if your item is not discovered within 48 hours.
Restrooms at Surabaya Airport
Surabaya Airport has restrooms in all terminal buildings. All bathrooms are clean and well-kept. There is an accessible toilet available.
Nursing Mothers Station at Surabaya Airport
In the terminal building, Surabaya Airport has a nursing mom's station. This is a tiny, private space that nursing mothers can comfortably use. The room has a sink, a nice chair, and an electrical outlet.
ATMs at Surabaya Airport
Surabaya Airport has ATMs in both the domestic and international arrivals halls. Several banks and money changers can also be found throughout the airport. The most convenient option to obtain cash is at an ATM, but you may also be able to get it from your hotel or a nearby bank.
Currency Exchange at Surabaya Airport
Surabaya Airport provides currency exchange services to passengers entering or departing the airport. The service is accessible at the main terminal of the airport. It makes it easy to convert money before or after your flight. The airport also has an ATM and a credit card cash advance facility for individuals who need to withdraw cash from their accounts.
Food and Beverages at Surabaya Airport
Travelers at Surabaya Airport have a variety of food and beverage options. There are several eateries and cafes throughout the airport and a few vending machines. No matter what time their flight departs, passengers can find something to eat or drink.
Restaurants at Surabaya Airport serve a variety of cuisines, including Indonesian, Chinese, and Western fare. There are also other fast-food restaurants nearby. Many vending machines provide snacks and drinks throughout the airport for those who need a quick bite or drink.
Shopping at Surabaya Airport
Surabaya Airport shopping is an adventure. The departures terminal has a shopping area. It is densely packed with duty-free businesses selling everything from cigarettes to diamonds. There are also a few restaurants, cafes, and shops selling souvenirs and travel accessories.
Pet Relief at Surabaya Airport
For your convenience, Surabaya Airport provides a designated pet relief area. The location is in a public park near the airport's departure terminal. Please remember to pick up after your pet.
Ticketing Services at Surabaya Airport
Surabaya Airport is one of Indonesia's busiest, handling domestic and international flights. Surabaya airport's ticketing services are dependable and fast. The personnel is pleasant and helpful, and they provide excellent customer service. Numerous ticketing alternatives are available, including online, phone, and walk-in bookings. The procedure is straightforward, and you should receive your tickets within minutes.
Was your flight delayed or cancelled?
You may be eligible to receive up to 600 EUR compensation per person in your party..
Claim Now!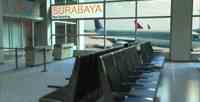 Things to see and do in and around Surabaya in Indonesia