Surabaya Airport Arrivals (SUB)
Not all flights may be showing. If not available use search above to find your flight by airline, airport or flight number.
Origin
Airline
Flight no.
Scheduled
Est./Actual
Status
Jakarta (CGK)
Lion Air
JT690
05:10
05:16
Landed
Jakarta (CGK)
Lion Air
JT748
05:10
Unknown
No flight arrivals were found at Surabaya Airport.
Flight Arrivals at Surabaya Airport
Taxis, car rentals, rideshares, and buses are available for ground transportation at Surabaya Airport. Taxis are the most expensive but also the handiest alternative. Trains and buses are less expensive but take longer to reach your location.
First and foremost, knowing that the Surabaya Airport is in the East Java Province of Indonesia is essential. It is approximately 12 from the city center of Surabaya. You can take a taxi, bus, or private car to get into the city. The average cost of a taxi ride into the city is about IDR 150,000 ($10).
If you arrive at night, it is best to take a taxi as public transportation options will be limited. Be sure to use an official airport taxi service to avoid being overcharged. The average fare into the city should be around $10.
Rental Car Services at Surabaya Airport
Several companies offer car rental services at Surabaya Airport. At the airport, some local vehicle rental firms provide services. To rent a car, you must produce your driver's license, passport, and credit card. A rental agreement must also be signed.
Book your car ahead to receive the most excellent vehicle rental rate. You can also compare pricing and services by looking at our car rental offerings from various car rental businesses.
Taxi Services at Surabaya Airport
There are numerous taxicab options available at the airport. Passengers can book a taxi at any of the counters in the Arrivals Halls at Terminals 1 and 2. Taxis may take you from either Terminal 1 or Terminal 2 to the city's downtown area in around 30 minutes. See more information about taxis at Surabaya Airport.
A taxi ride from Surabaya Juanda Airport to the city center costs approximately 120,000 Indonesian Rupiah (IDR). A cab ride to Chinatown or the Historic District is slightly more expensive.
Train Services at Surabaya Airport
The distance between the airport and the center of Surabaya (Tunjungan Plaza) is roughly 24 kilometers, resulting in a fifty-minute average journey time. To the north of the city's Central Business District are the neighborhoods of Old Town and Chinatown. More information about train services near Surabaya Airport.
The cab ride from Juanda Surabaya Airport to Gubeng Railway Station will cost around $10 and take about 20 minutes, depending on traffic circumstances.
Bus Services at Surabaya Airport
It is possible to enter and exit the city through its public transportation system. The bus system is overseen by the DAMRI. There are two bus stops in Terminal 1; however, there is only one stop at Terminal 2. More information about buses to and from Surabaya Airport.
Hotel Shuttle Services at Surabaya Airport
Many hotel shuttles operate to and from Surabaya International Airport. You will arrive at these services more quickly if you follow the signage to the official pickup sites.
Because most shuttles run on a first-come, first-served basis, it is in your best interest to arrive at the shuttle stop as soon as possible. Because the hotel shuttle only runs once or twice daily, you should arrive as early as possible.
Please review the information on our hotel's page.
Rideshare Services at Surabaya Airport
Ridesharing services to and from Surabaya International Airport are now available. Grab, Go-Jek, and Uber are just a few companies that provide comparable benefits. You must first download the app, enter your starting and ending points, then choose the vehicle you wish to utilize.
Before making a reservation, you can browse the entire menu of ridesharing services and the fees connected with each option. It is simple and quick to make a reservation and pay for it using the mobile app.
A ridesharing service is a fantastic choice if you're looking for an alternative to taking a cab or a shuttle.
Parking Services at Surabaya Airport
When arriving at Surabaya International Airport, passengers have many parking options. The first choice is the short-term parking lot, which is close to the terminal and is ideal for picking up or dropping off guests. The second alternative is the long-term parking lot, which is further away from the airport but offers a discount to clients who stay for a lengthy period.
Furthermore, motorbike parking is offered outside Terminals 1 and 2 at Surabaya Airport. Please check our website's parking page for further details.
Other Services at Surabaya Airport
Several different airlines run passenger services at Surabaya Airport. There are three terminals at the airport, with Terminal 1 serving local flights and Terminal 2 operating internationally. The airport offers several facilities, such as restaurants, duty-free shopping, and currency exchange.
Disabled Passengers at Surabaya Airport
Passengers with disabilities can use a particular facility at Surabaya Airport. A wheelchair-accessible restroom and an elevator led to the departure hall at the airport. For those who are blind, the terminal building is also marked on a Braille map.
Wi-Fi at Surabaya Airport
Wi-Fi access is available at Surabaya Airport for those who need to stay in touch while traveling. All airport areas offer the service, including terminals, eateries, and shops. Connect to the available network on your device to access the Wi-Fi, then log in with your email address to begin browsing.
Baggage Claim at Surabaya Airport
At Surabaya Airport, baggage claim is situated on the terminal's first floor. It is easily reachable from the arrivals hall for visitors coming by plane. It's simple to locate and has excellent signage that leads out of the baggage claim area.
Information Desk at Surabaya Airport
The Surabaya Airport Information Desk can assist you with any queries or worries regarding your journey. They are happy to help you any way they can, and their staff is informed and welcoming.
Smoking at Surabaya Airport
Only designated locations clearly marked for smoking are permitted at Surabaya Airport. All other indoor parts of the airport, including the restaurants and cafes, are smoke-free zones. Smokers can choose from a few outside smoking sites.
Lost and Found Section at Surabaya Airport
If you misplace something at Surabaya Airport, you can look it up in the Lost and Found department. Visit the Customer Service Center in the Arrivals area to do this. English-speaking staff members who work at the customer service center, which is available 24/7, can assist you in filing a complaint for a missing item.
The airport employees will contact you if your item is not located within 48 hours.
Restrooms at Surabaya Airport
All terminal buildings of Surabaya Airport have restrooms. Each restroom has been kept up-to-date and clean. There is a disabled person's restroom.
Nursing Mothers Station at Surabaya Airport
Surabaya Airport set up a nursing mom's station in the terminal building. Nursing women can comfortably pump or breastfeed in this tiny, private space. A nice chair, a sink, and an electrical outlet are all present in the area.
ATMs at Surabaya Airport
Both the domestic and international arrival halls of Surabaya Airport include ATMs. The airport is home to several banks and currency exchanges. The quickest and most convenient place to obtain cash is an ATM, although you might also be able to do it from your hotel or a nearby bank.
Currency Exchange at Surabaya Airport
The Surabaya Airport provides currency exchange services for visitors and departing passengers. The main terminal of the airport offers the service. It provides a practical option to exchange money before or after your flight. The airport also provides an ATM and a credit card cash advance facility for passengers who want a cash withdrawal from their accounts.
Food and Beverages at Surabaya Airport
Travelers may find various food and beverage options at the Surabaya Airport. The airport has several eateries, cafes, and a few vending machines. Regardless of what time their aircraft takes off, travelers may find something to eat or drink.
Surabaya Airport's restaurants serve various foods, including Western, Chinese, and Indonesian fare. Additionally, a variety of fast-food options are available. Several vending machines are selling snacks and drinks spread across the airport for anyone searching for a quick bite or beverage.
Shopping at Surabaya Airport
Surabaya Airport offers a unique shopping experience. The departures terminal houses the shopping area. Duty-free businesses offering anything from cigarettes to diamonds are abundant there. A few eateries, cafes, and other stores that sell trinkets and travel necessities are also present.
Pet Relief at Surabaya Airport
There is a designated pet rest area at Surabaya Airport for your convenience. The location is close to the departure port in a public park. Remember to pick up after your pet.
Ticketing Services at Surabaya Airport
One of Indonesia's busiest airports, Surabaya Airport, serves domestic and foreign aircraft. The Surabaya airport offers dependable and effective ticketing services. The staff provides good customer service and is amiable and supportive.
There are numerous ways to purchase tickets, including on the phone, online, and in person. It's easy; you can typically get your tickets in a few minutes.
Was your flight delayed or cancelled?
You may be eligible to receive up to 600 EUR compensation per person in your party..
Claim Now!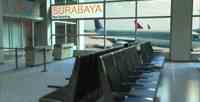 Things to see and do in and around Surabaya in Indonesia